If you have ever wanted to become a certified diver, or simply wanted to try diving in general, then Mexico, and specifically Cancun, is the perfect place to do so. The local landscape allows for much more than just open water dives; alongside the world's second largest reef there are also cenotes (huge freshwater natural wells), underwater caves and shipwrecks to explore at your leisure. Here are some top class tips for diving in Cancun.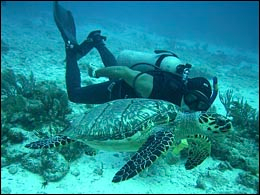 Dive companies and rentals
Getting certified is one way to ensure that you can get the very best out of your vacation in Cancun and there are a number of great diving tour companies that can help you there! You can ask the concierge or on-site tour agent at your hotel to recommend any number of good companies in the area. Cancun is one of the best places to seek certification due to its warm water, varied choice of dive sites and excellent clarity.
Top Sites for Diving in Cancun
The range of options available to you in Cancun is mind-boggling; there is a dive site for every level of experience, and every interest. There is a nice mix of open water, cave, shipwreck exploration, and cenote diving available to you, not to mention the wonderful MUSA underwater art museum! Here's a list of our top dive spots in Cancun!
• Reef Diving
The Great Mesoamerican reef situated near Cancun is the second largest in the world and has a number of smaller reefs within its border that warrant visiting. The Manchones and Aristos reefs are the most popular sites for new divers and makes diving in Cancun a joy.
• Shipwrecks
There are a huge number of sunken ships in and around Cancuns coast, some were sunk deliberately with the intention of helping ailing eco systems, and as a result there are a number of fascinating dive sites to explore. The El Frio cargo ship is particularly incredible, but recommended only for advanced divers diving in Cancun.
• Cave Diving in Cancun
The Bat Cave is like another realm; the eerie and beautiful rock formations are unforgettable! Nature lovers will adore the Cave of Sleeping Sharks offers you a chance to get a bit closer to the "friendly" shark species. You can see gray reef sharks, black tips, and bull sharks here; it's a truly thrilling experience to get so close to such powerful creatures.
• Fresh Water Cenotes
Cenote diving in Cancun is a unique and life changing experience, though is recommended only for experienced divers (and it's suggested that you take a guide with you). The labyrinthine underwater tunnel systems are, without a doubt, one of the most magical sights in Cancun.
• Underwater Museum (MUSA)
Artwork by Jason DeCaires Taylor has been placed on the seabed in a few areas around Cancun and has left a stunning legacy. Some of these man made reefs are in sites shallow enough to be seen from a glass bottomed boat, while others require a dive. Either way the view is spectacular!