When you take a vacation in Mexico and stay at your Garza Blanca timeshare in Puerto Vallarta you can be sure that you won't ever go hungry! More to the point, you won't ever find yourself at a loss for great eating and drinking. Garza Blanca Preserve Resort & Spa has more than one hotel on it's soil and four gourmet restaurants, as well as in-suite options to keep you happy.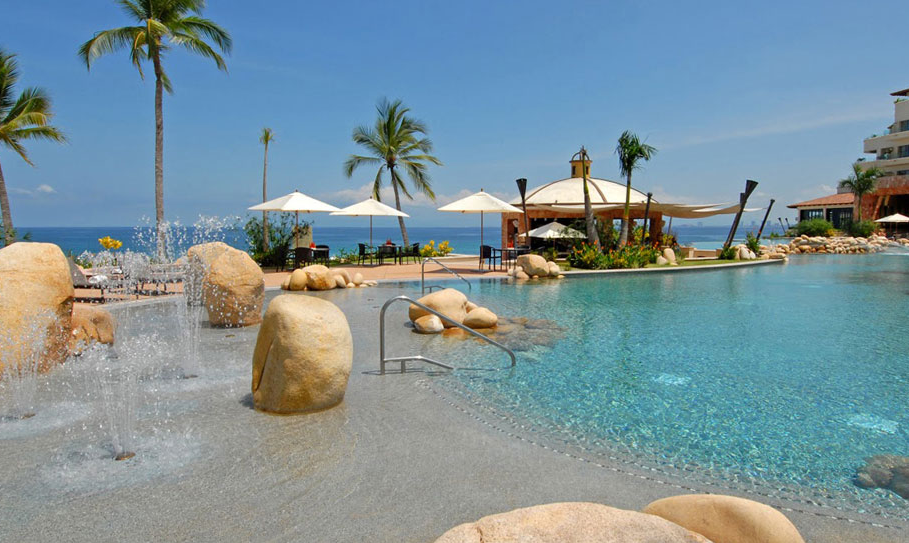 Eating and Drinking at Garza Blanca Timeshare in Puerto Vallarta
In order to cater to the needs of individual members and guest, Garza Blanca timeshare in Puerto Vallarta offers members the option of using their membership points to pay for certain services such as all-inclusive meal plans or an in suite chef! The in-room dining options available to guests are really quite fantastic; you can enjoy room service, have groceries delivered to your suite for a small fee or, of course, have a private chef cook you a meal in your room, all of which can be paid for with Garza Blanca Club points!
If you would prefer to eat in one of the restaurants, however, you have a few options, all of which are covered either fully or partially by the Garza Blanca all-inclusive meal plans.
Aquazul
For those who love to lounge in the sun all day, Aquazul is a hybrid pool-side snack bar and gourmet restaurant. This eatery is unique in the sense that it offers the option to either eat formally at a table or to have gourmet snacks on the beach or at the poolside in your sun lounger.
Blanca Blue Restaurant and Lounge
For those who prefer a fine-dining experience but still want to be close to the ocean, then Blanca Blue Restaurant, the original gourmet restaurant at Garza Blanca Preserve in Puerto Vallarta, is for you! Huge windows and an oceanfront view complement the mouthwateringly great food on offer – there's no better place for a romantic dinner.
Bocados STK Steakhouse
Eating and drinking at Garza Blanca doesn't get much better than the delectable Bocados STK steakhouse. Set higher up the mountain and offering some of the best cuts of meat around, this is a great choice for dinner. Sublime dishes are served in a contemporary, sleek restaurant with a calm and welcoming atmosphere. The views, too, are really quite mindblowing.
Hiroshi Sushi and Pan-Asian Cuisine
A delectable selection of delicately designed dishes that are crafted for both flavor and presentation, the Hiroshi menu is a work of art. Hiroshi is located at Hotel Mousai but is open to Garza Blanca timeshare members.
All Inclusive Plans
Most of these restaurants are fully covered by any Garza Blanca all-inclusive meal plans purchased, no matter where on the Garza Blanca preserve you are staying. The Hiroshi restaurant at Hotel Mousai is the exception to this rule. If you are staying at Hotel Mousai then meals at Hiroshi will be covered by your all inclusive meal plan. If you are not staying at Hotel Mousai but have an all inclusive package, you will receive a 40% discount on the cost of your meals at the Hiroshi.