Hotel Mousai is one of the newest additions to the Garza Blanca Residence Club in Puerto Vallarta! The luxury hotel opened its doors to guests in December 2014 and has been delighting visitors aged over 16 ever since. Here is a much awaited review of this exciting lifestyle hotel in Puerto Vallarta.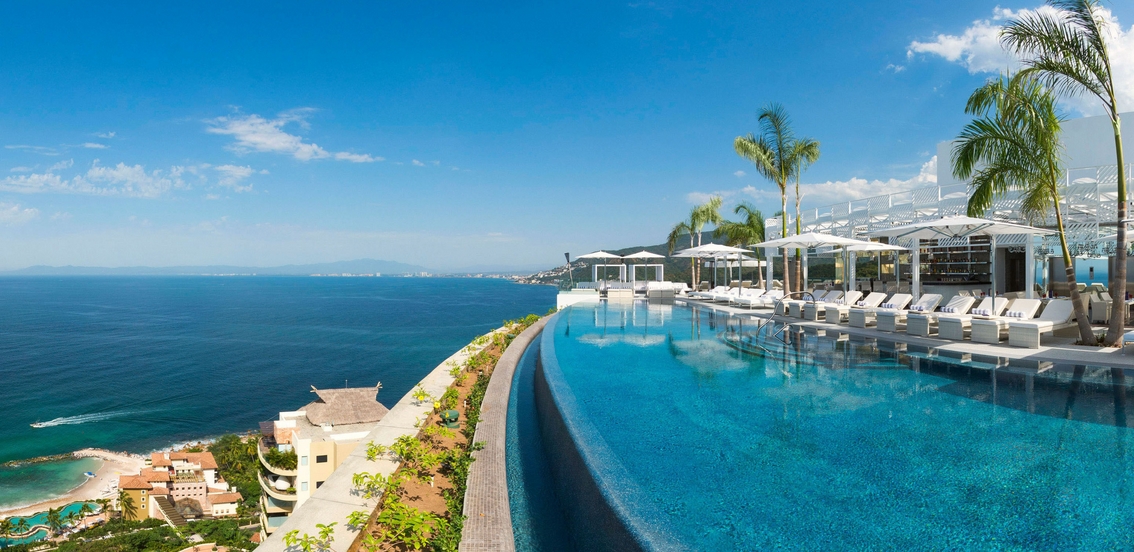 Hotel Mousai Review – A new beachfront property in Puerto Vallarta
Hotel Mousai undoubtedly breaks the conventional mould when it comes to hotel experiences in Puerto Vallarta, or in fact in Mexico at large! This beachfront hotel is chic and trendy; offering contemporary suites each with their own plunge pool! The views are unbeatable!
Relaxation at Hotel Mousai in Puerto Vallarta
Spa Imagine on the 16th floor is just the place to visit if you want to detox and de-stress; this is an ultra-chic space dedicated to helping people relax. The state of the art hydrotherapy facilities available here include a hot-tub, pressure massage shower (it kind of looks like a teletransporter which is doubly awesome), and a sauna. There's also a ridiculously pampering vitality pool which has 6 different massage settings. There are even awesome gym and fitness facilities, both indoor and outdoor!
Fun at Hotel Mousai in Puerto Vallarta
According to reviews, Hotel Mousai offers some really wonderful free activities such as jungle hikes, walks up to the waterfalls, snorkeling, kayaking, tennis, and even paddle boarding! Alternatively you could relax in the rooftop infinity pool near which there is a lounge area and bar for your enjoyment. At night, the Rooftop becomes a cool, trendy open air bar where you can enjoy scheduled entertainment and socializing with the other guests.
Dining
There are three main places to get food and drink in the hotel that have received highly favorable reviews. Firstly there is The Terrace, which is open at breakfast and lunch times and offers a full a la carte menu. Secondly there is The Rooftop where you can find a special menu filled with gourmet snacks that will help you to get through the day while you're by the pool. If you like Japanese and Chinese food then you'll love the Hiroshi pan-Asian restaurant offers many different dishes in a fine dining atmosphere. Those who stay with the hotel Mousai can eat at any of the gourmet restaurants on the Garza Blanca Preserve, which has three other restaurants. Furthermore you can use any of the facilities on the Garza Blanca Preserve.