The stunning landscapes and skylines of Mexico are well-known to photographers and artists worldwide, but they are made up of a myriad of different components that can be enjoyed by tourists and sightseers alike. One such site is the Los Arcos rock formations in Puerto Vallarta, which are islets found just off the coast of the Garza Blanca Preserve, on the south road from Puerto Vallarta, on the Pacific coast of Mexico.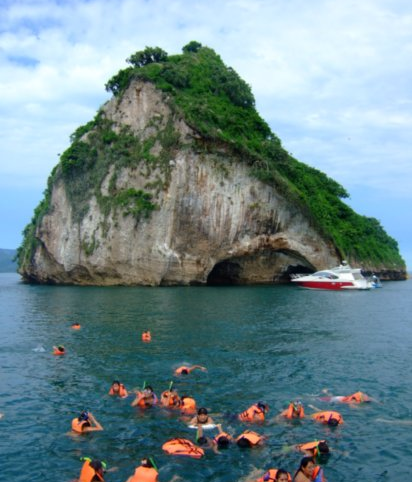 The Puerto Vallarta skyline is unique and awe-inspiring no matter which way you look at! Inland the jungles and mountains make for a dramatic skyline during the day, and at night the tower of the stunning Church of Guadalupe illuminates the sky. Seaward, however, is where the wonders of nature become really apparent; the perfect horseshoe of Banderas Bay perfectly catches the sunsets, and in the distance the Los Arcos rock formations erupt from the crystalline waters of the Pacific.
You can get to the Los Arcos rock formations from Puerto Vallarta by driving southward, through beautiful tropical landscape, to Mismaloya. Here you will be able to snorkel, dive, swim, and even Kayak in and around the Los Arcos islets. If you're staying on the Garza Blanca Preserve, however, you won't have to go far at all as the islets are visible from the hotel rooms and lobbies! The Garza Blanca will even provide you with equipment to go paddle-boarding, kayaking, or snorkeling around the Los Arcos rock formation. What's more you can enlist the help of an experience guide to tell you all about the exotic birds, fish, and marine wildlife that populate this unique habitat.
The Los Arcos rock formations in Puerto Vallarta have been protected as a nature reserve and National Marine park since 1984. As a result of this, and their unique beauty, they attract the admiration of thousands of visitors per year as well as the pride of the local communities! People come from all over to join the tours and excursions that include these geological wonders.
You can be sure that you won't forget the Los Arcos rock formations in Puerto Vallarta in a hurry!
Los Arcos Rock Formations in Puerto Vallarta