When on vacation with your significant other, it is only natural that you should want to find some activities that will be interesting, fun, and of course, romantic! Well, we have a summary of the best four romantic things to do for those who are staying in the Villa del Palmar resort in Cancun.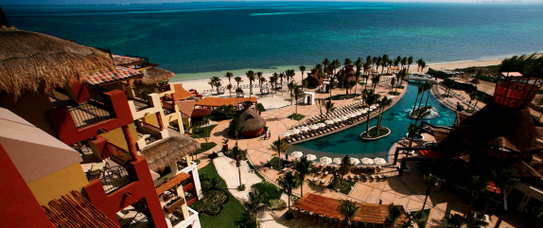 Romantic Things to Do
1- Noche Romantica (spa)
The Village Spa at Villa del Palmar Cancun is truly a world class facility, and the Noche Romantica package is somewhat of a favorite with visiting lovers and one of the top romantic things to do at Villa del Palmar Cancun. This package includes a couple's massage, fresh strawberries covered in chocolate, and sparkling wine for you both to enjoy. It is advised that you arrive about an hour before your treatment so you can enjoy the hydro-therapy area together.
2 – Dinner for Two (cooked by a private chef!)
When staying at Villa del Palmar Cancun, you can opt to have the services of a private chef for one evening, if you so wish! This is a perfect way to relax and enjoy the benefits of a Mexican vacation together; stir up your appetite in a romantic setting, and see the benefits of a specially selected aphrodisiac menu!
3 – Mayan Bonding Ritual
This ritual is a perfect opportunity for loving couples to renew and reaffirm their love and commitment to each other. It should not, however, be taken lightly as it is also viewed as an opportunity for you to find out why your lives have been brought together and what it is you have to learn from each other on the path that you will share this lifetime. The ceremony can be performed on the beach, or in nearby Mayan ruins. A very romantic thing to do at Villa del Palmar Cancun.
4 – Lovers' photo shoot
You needn't wait for your wedding day, or the birth of your first child, to get high quality, professional photographs taken! Villa del Palmar Cancun has a wonderful photographer available, and a location that really lends itself to the production of stunning photographs! These are memories that will stay with you forever.