When you choose to vacation in Cancun you're choosing one of the most idyllic and yet exciting locations in the world. While this may seem like a paradox, it is true. The hustle and bustle of the hotel zone contrasts with the wonderful tranquillity of the beach and, in the end, the result is paradise.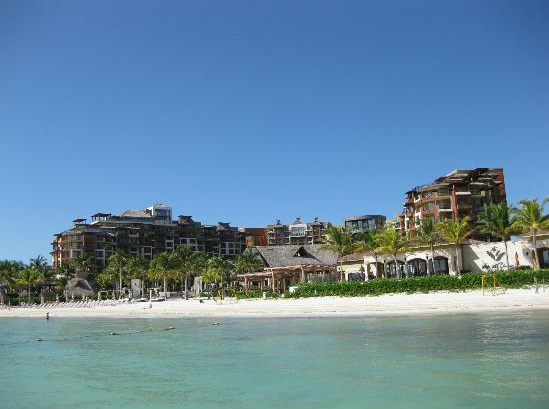 Villa del Palmar Cancun's location further emphasizes this combination. Located in the quiet Playa Mujeres area, it is one of the resorts that can truly claim to be perfectly placed between the urban excitement of Cancun and the idyllic relaxation of the surrounding beaches. Better yet, this perfect placement is available to all Villa del Palmar Cancun visitors whether they be timeshare members, room only guests or all inclusive vacationers.
Villa del Palmar Cancun has some of the best rooms and suites available in Cancun. Most of the rooms have a sea view and even the entry level studios are larger than most hotel rooms. The One and Two Bedroom Suites are more than big enough to live in comfortably boasting a kitchen, en suite bathrooms, dining room and living room. There are also even more luxurious options for those who love the finer things in life. Grander more opulent penthouses and speciality accommodations are available with expansive terraces and outdoor hot tubs. You could even have a personal chef or butler in your room, should you wish.
On site at the Villa del Palmar Cancun resort there are four gourmet restaurant which offer Mediterranean, Mexican and Japanese cuisine, a steakhouse, two snack bars, a beach bar and a world class spa. All of these facilities are available to guests who might find that the most difficult thing at the Villa del Palmar Cancun is to stop eating! Of course you could always burn off those calories with the free activities on offer: tai chi, pilates, yoga, snorkelling and games on the beach are available to guests every day!
Should you wish to venture out, of course, the hotel zone is a mere 40 minutes away by car or taxi, and there are some free shuttle buses to take guests from Villa del Palmar Cancun to the big shopping malls. In the Hotel Zone, you can enjoy various dance clubs, restaurants, bars and nightclubs that cater to all tastes and ages! You can also take part in the activities and tours organized by the concierge and tour operator at Villa del Palmar Cancun; you could go swimming with whale sharks or visit some of the Mayan ruins for which the area is famed for.