A destination wedding can be a couple's best friend. It's an excuse to leave behind all the troublesome workmates and third cousins that you never see (without causing offence), it guarantees good weather, and, when you stay at the Villa del Palmar Cancun, you can leave the details to someone else. To make your life easier the Villa del Palmar Cancun has different packages on offer to make your big day.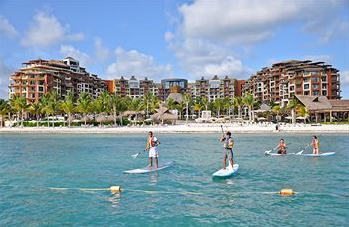 Getting Married in Cancun
LOVE IS IN THE AIR
If you want your big day to be an intimate, understated affair then this package is undoubtedly for you. This package is free when you book 35 rooms, but is available to you no matter what size your wedding party is. It includes, obviously, your romantic, beachfront ceremony in front of the stunning, crystalline waters of the Caribbean. But you also get turndown service on your wedding night, and discounts on Spa services for you and your guests. The Villa del Palmar also has dedicated wedding coordinators to help you to take care of all the little details so that you don't have to.
LOVE ME TENDER
When you want to make a slightly bigger show of your wedding day you can opt for the Love Me Tender package, which is free with the booking of 45 rooms or more at Villa del Palmar Cancun (making it perfect for bigger wedding parties). You get all the same elements found in the Love is in the Air package, but also benefits from a few little extras such as a matching, tropical, bouquet and boutonniere for the bride and groom, and a romantic, private candlelit dinner on the beach.
ENDLESS LOVE
If you want to add some truly unique touches to your destination wedding then you can go for either the Endless Love package which include one of two spa treatments. You can have the Noche Romantica couples treatment which includes sparkling wine, strawberries, and a 50 minute couples massage, or the Fair Beauty package which is aimed at the bride. When you book a Fair Beauty package the bride will get her nails, makeup, and hair done for her big day which is a big weight off her mind!
FLY ME TO THE MOON
When you book the Fly Me To The Moon package you will enjoy everything that the ENDLESS LOVE package offers but also benefit from a 1 hour sessions with a professional photographer to make sure that your wedding photos are flawless.
The Villa del Palmar have committed themselves to making your big day special so kick back, relax, and let us worry about the details.