We know that your wedding day is one of the very best days of your life! We also know that when you get married, you want it to go as smoothly as possible. So why not have your big day somewhere where you will have all the help you need! Here are some reasons to choose Puerto Vallarta to get married.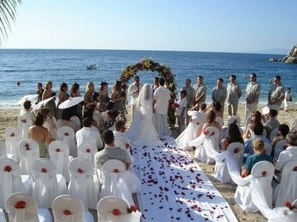 1. Destination Weddings are Awesome
Getting away for your big day can be one of the best choices you'll ever make when you get married! For a start, destination weddings tend to be smaller, more intimate, and even a little less expensive (depending upon the size of your wedding party). What could be better than a ceremony bare-foot on the sand, and then a reception at a chilled out beach bar?
2. Puerto Vallarta has some of the best scenery in Mexico
Situated on the Pacific coast of Mexico, Puerto Vallarta has some truly breathtaking scenery to offer! The town itself is quaint and pretty, but it's the natural landscapes around it that are really something to remember. The beaches are clean, well-kept and adjacent to the warm, crystalline waters of the Pacific ocean. Nature lovers will be particularly taken by the white sand beach that overlooks the Los Arcos rock formation! Who doesn't want to enjoy an idyllic setting when they get married.
3. The best activities
When it comes to planning the best hen and stag parties, or even just arranging a nice day out with the wedding party, Puerto Vallarta is a winner. You can visit one of the many fine restaurants, bars, or clubs in the downtown area to make sure your wedding gets the celebration it deserves, or if you want something really special you can arrange a whale watching tour or a pirate ship adventure!
4. Culture and history to spare!
Puerto Vallarta is so much more than just a tourist destination; it is a cultural and historic centre which is home to many varied sites of interest. Whether you want to take in the public art of the Malecon, visit the galleries and stores, or visit the great Cathedrals in the city centre we can assure you you'll be amazed! Not only are these areas beautiful, but they'd make unique wedding photos for when you get married in Puerto Vallart!