The Malecón boardwalk is undoubtedly the scenic highlight of any vacation to Puerto Vallarta. This mile-long seawall protects the bars, shops and restaurants of down-town Puerto Vallarta from the ocean's waves. This famed boardwalk is a must see for all tourists as it's the central point of the down-town area and is the perfect place to catch the sunset.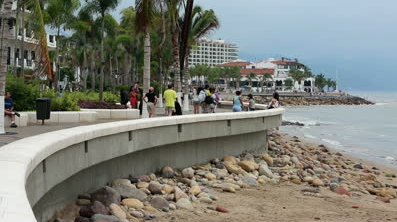 Recently Pedestrianized
In 2011, the Malecón was renovated and pedestrianized; a project which focused on the beauty and atmosphere of the historic boardwalk. Tourists and locals alike can now saunter between palm trees, bugambilia and flower beds overflowing with tropical plants without dodging cars or uneven paving! Even the ground has been beautified with pebblework that depicts the art of the Huichol people, who are the most prominent indigenous group in the area.
A Gallery of Sculptures
Along the Malecón you will also find, at regular intervals, wonderful sculptures created by local Mexican artists and craftsmen. If you wish, you can take one of the guided tours of these sculptures which take place in English and will give you some information about the artistic history of Nayarit and Jalisco. If the arts are a passion of yours then there's even a small, outdoor amphitheatre near the plaza and the gorgeous Our Lady of Gaudalupe church where free daily performances are given. This whole area is a hub for artisans, sellers and street performers who love to entertain!
The Pier
As you progress further towards the Old Town you'll see a sparkling new pier. This is not only a picturesque location for a walk but a key location for anyone who wants to visit the surrounding beaches. As some of these beaches are only accessible by boat you'll need to catch a boat trip at the pier in order to see them.
The Malecón is one of Puerto Vallarta's most stunning attractions, don't miss it!