Hotel Mousai is a brand new chic addition to Garza Blanca Residence Club on the luxury property in Puerto Vallarta, Mexico. Garza Blanca is a nature preserve on the beach with access to 85 acres of stunning jungle and mountains, with hidden waterfalls and rivers. Garza Blanca Residence Club owners enjoy privileged access to the preserve when they reserve their suites at either Garza Blanca Resort or the new adult only venue, Hotel Mousai.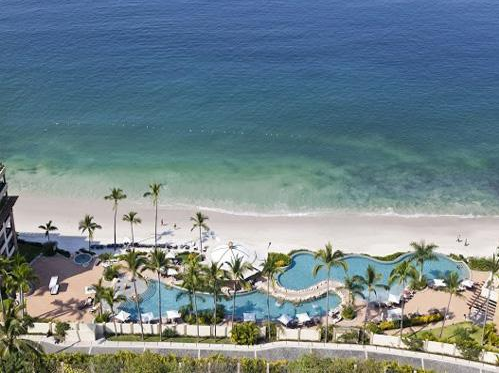 Hotel Mousai at Garza Blanca Residence Club
Hotel Mousai is an incredible lifestyle hotel for the young and young at heart to enjoy cutting edge vacations by the beach. When you purchase membership at Garza Blanca Residence Club or directly at Hotel Mousai, you can use your club points towards reserving a suite at Hotel Mousai according to your points allowance.
Hotel Mousai's Suites
Garza Blanca Residence Club owners may use their points to make reservations at a Mousai Suite or Ultra Mousai Suite, which are incredible ocean view junior suites with private jacuzzi on your balcony, trendy decor and lavish details that set the hotel apart from its competitors. All of the linens and towels are of the finest quality and the service is well on the road to claiming 5 Diamond status. The Ultra Mousai Suites, offer exclusive services such as butlers, premium honor bars, a concierge for each floor, included internet and free access to the hydrotherapy unit at the luxurious Spa Imagine on the 15th floors as well as the best views possible.
The Rooftop Pool
One of the key talking points about Hotel Mousai at Garza Blanca Residence Club is its rooftop pool that overlooks the entire Banderas Bay. Here you can bask with a drink or two on top of the hotel and can sample the creative cuisine on offer as you lounge in luxury. As Hotel Mousai guests, you can also enjoy any of the other pools at Garza Blanca, and take advantage of a VIP area on the beach for Mousai guests only.
Hiroshi and Fine Dining
Hotel Mousai at Garza Blanca Residence Club has its own selection of dining options, including a Japanese fusion restaurant, Hiroshi, where you can enjoy fresh sushi and other Japanese delicacies within incredible surroundings, and the Terrace Restaurant for a delicious breakfast and brunch. Likewise, Hotel Mousai guests can dine at the restaurants located at the Garza Blanca resort, including Blanca Blue, BocaDos STK and Aguazul.
Spa and Fitness
Spa Imagine located on the 15th floor of Hotel Mousai at Garza Blanca Residence Club is a unique luxury spa with a stunning hydrotherapy circuit that includes a pressure massage shower, large whirlpool, 6 cycle vitality pool, ice cold plunge and loungers for relaxing before or after your massage or beauty treatment. One floor above, you will find Hotel Mousai's cutting edge gym with all the latest equipment including a yoga room and a personal trainer. Guests at Hotel Mousai at Garza Blanca Residence Club can also enjoy the facilities at the outdoor play and fitness center, which is located within a jungle setting. There you can play tennis or squash or simply relax as a spectator in the modern summer houses.