Timeshare at Club Caribe refers to owning a timeshare unit at Villa del Palmar Cancun and accessing all of the benefits offered by its affiliation with both Tafer Hotels & Resorts as well as The Villa Group Resorts conglomerate. What this means in simple terms is that when you buy a timeshare at Club Caribe, you can use your membership to stay in a variety of the top vacation destinations in Mexico, including Puerto Vallarta, Riviera Nayarit, Cabo San Lucas and Loreto.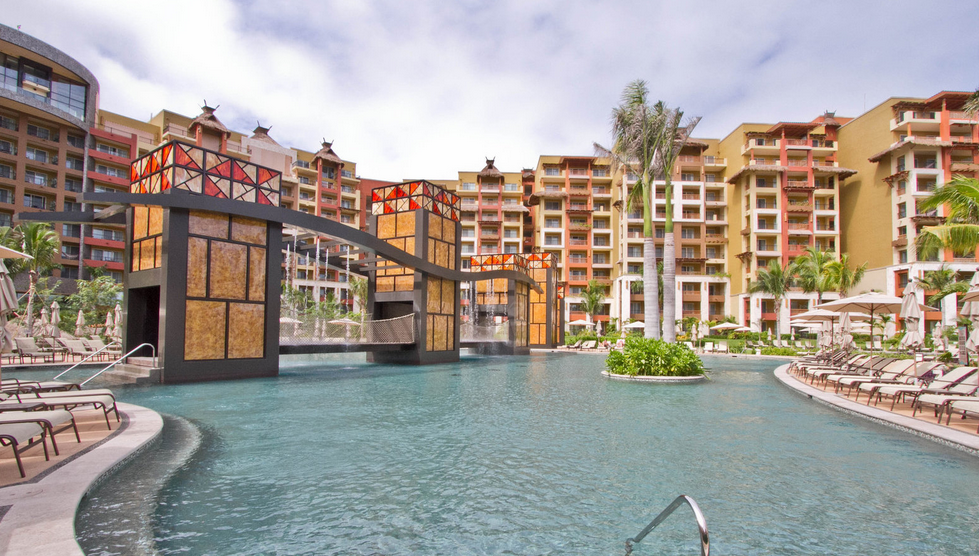 Timeshare at Club Caribe is great value for money without losing out on luxury, class and stunning service. Buying timeshare at Club Caribe means that you will stay in some of the most elegant and well decorated rooms and suits in Mexico. One of the key selling points for timeshare at Club Caribe is the size of the timeshare accommodations at Villa del Palmar Cancun with entry level deluxe studios coming with a small kitchenette and anything bigger than a one bedroom unit boasting a full kitchen with granite countertops, oven, fridge-freezer and dining areas.
The quality and size of the units at Villa del Palmar Cancun (and all of the affiliated resorts) is certainly one of the main attractions of buying a timeshare at Club Caribe over other resorts in Cancun and Mexico at large. The developers of Club Caribe timeshare are keen to make sure each unit is like a luxury home away from home. Therefore when you purchase a timeshare at Club Caribe you will notice that each suite is endowed with lots of details you won't find in standard hotel rooms, including sofas and dining areas, as well as balconies with oversized hammocks. And that's not even describing the range of luxury residence and penthouses on offer at Club Caribe.
Timeshare at Club Caribe is all about ensuring that you have a marvelous experience each time you take a vacation in Mexico. The resort facilities compete with the best five star hotels in the world, with 5 swimming pools, 4 gourmet restaurants, 2 snack bars, an incredible spa, a full timetable of resort activities as well as access to a white sandy beach with palm trees and turquoise sea. Villa del Palmar Cancun resort also boasts a fully functional Kids Club with trained staff and a fun specialized activities program for kids.
Another advantage of timeshare at Club Caribe is that your membership enables you to stay in other Villa del Palmar resorts in Mexico as well as the luxurious Garza Blanca Preserve in Puerto Vallarta (with its soon to open Hotel Mousai – an ultra trendy over 16s hotel). Internal exchanges are easy to organize and prove what a great investment you have made buying timeshare at Club Caribe. Likewise, your Club Caribe membership offers you the chance to use the services of Interval International for exchanges in countries other than Mexico. Interval International allows you to explore the world with your Club Caribe timeshare.
If you have yet to buy a timeshare in Cancun, take time to explore this blog to discover the best options available.